Customer pictures and comments
– – – – – – – – – – – – – –
Hey Jeff,

I wanted to send you a recent photo of my pond - put it in the ground last summer, so this is the first spring. There are a few blank spots to fill in the gardens, but I'm so pleased with the pond itself. I did the raised edge with Rock on a Roll, which allowed me to have plantings right up to the edge of the pond - love it!! I think the pond will look better and better each year. Seeing a lot of mating activity from the fish, so perhaps we'll have more than 4 by summers' end.... :) Thanks for your help,
- - Laura C - -
(From 2011)

---
Three years later
Hi there Jeff,
You had posted some of my pics on your site back in 2011 when I put my pond in. Your advice was invaluable, and your Rock on a Roll is an awesome product. Here's the pond three years later...home to many happy fish, toads, frogs, and dragonflies (and my crazy cat Tommy loves to hang out with the fish, too).
The Rock on a Roll is still hangin' tough three years out, and looks even more like natural stone now. The thing I love most about my pond is that the plantings can go all the way to the edge; makes the pond look so much more natural. The raised edge method is terrific, and the Rock on a Roll made it so I didn't have to do that flat-rocks-along-the-edge thing, which I've never loved.
Thank you, thank you, thank you!
- - Laura C - -
---
Hi Jeff. We were able to get our pond done this weekend and we wanted to send you pictures of it. We are super excited and hope you enjoy the pictures. The Rock on a Roll was great and super easy. I think once the water plants start to grow everything will just look fabulous! Thanks! - - Amy H - -

---
---
I should have sent this before now but our ages and the hot temperatures have made this project a slow one. I have attached several pictures showing what we started with and the finished (yea right!) results. We wanted you to see how your material looks on our pond.
Thanks again for your help.
- -Lee P. - -
---
---
Jeff,

I can't say enough how much I love your product. I have ordered 4 times in the last 3 weeks, I can't get enough of it. I've been using it places that I didn't think of so I've been using a lot of it. As you can see in one of the photos, I used to wrap our pipe from the pump. It made a huge difference on the waterfall. I inserted everywhere the liner was showing, it made it so much easier than trying to find a rock to hide the liner. It is very easy to use and it really blended with the rock we used. I especially wanted it for the ledges I made. I didn't want liner showing and it is just beautiful. Thanks again.

- - Diane B - -

---
Hello Jeff,
As promised I'm sending you a few pictures of the pond that I build on my patio. If you live in an apartment complex and do not have a big budget you have to be creative. My friends could not believe there is such a thing as a rock on a roll. When they saw our pond they were inspired. You will be hearing from them. Let me know what you think. Again thank you for inspiring me!
- - Heiki S. - -
---
I just finished rebuilding a small water feature in our backyard using your Rock on a Roll to enhance the appearance, and I had to write you to tell you how perfectly designed your product is! It is exactly as described, except better. It was so simple to install, covered all the ugly stuff with ease, and really does look very natural. I'm sure it will get even better over time.
I don't usually bother to write feedback on products, but this one is so outstanding I had to write to you. Great value, great design, a perfect solution!
Thanks, and all the best for your company's future,
- - Austin DeS - -
---
Hi Jeff,
My significant other and I decided to build a duck pond for our 3 new ducks. It is about 30' x 16' x 3 ' at it's deepest. Of course once it was dug and we had the liner installed, we had no idea how to finish it off. Larry was browsing on-line and found the rock-on-a-roll. WOW, we ordered 4 lengths in sandstone just to see how it worked. Wonderful stuff! Just amazing how easy it is to manipulate. Ended up with another 10 pieces. Pond is not completely done yet, but the ducks are so happy and so are we. Lots of people stopping by to check it out. Attached are some pics for your use if you are so inclined. Again, thanks so much for this product. We are spreading the word about it here in Tennessee
Jackie B
---
Wow, so glad we we tried it! So happy with the end results! Thank you, we now own a great looking pond!
- -Yvonne B. - -
---
We just finished with a small pond using your product. We just love the look. It was a great way to make that transition from water to soil. We plan on using it on more projects. Here's a cpl shots of it.
Thanks again, Bob F.
---
Hi Jeff,
It has been a while since we completed our pond in February. I thought you might enjoy seeing it then and now. The rock on a roll was a fun product to use, and I've since used the leftovers to cover the edge of a small goldfish pond on our covered patio. Our first frog has been spotted and so that makes me really happy. It has been a huge learning curve as my husband and I probably made a few mistakes...like not leaving enough space between the fence and the pond, so I forced to use a board across to do my water gardening. We thoroughly enjoy having this little piece off nature in our yard. Thanks for all your help and for the innovative product!
Best Regards
- - Carol k - -
---
We have had a busy summer making our koi pond but loving every minute. Thank you so much for this great product, the Rock on a Roll was just what I was looking for. We hate when you can see the liner and we where not committed to building a pond until I found your product. It was so easy to use and it makes such a difference. Hope you enjoy the photos, we are still making tweaks here and there but the Rock on a Roll is not one of them. Thanks again,
Kim M.
---
Hi Jeff,
About 5 years ago, I made a small pond (approximately 5' x 3' x 10" deep) and stream for my turtles. I used your raised-edge-method with good results. I'm sending a few photos showing the pond/stream when it was initially installed with your product, and photos showing how it has aged over the past few years.
Karen C.
---
Jeff
I have been meaning to write to let you know how happy I am with Rock-on-a-Roll. It looks wonderful in my new pond I built last summer. I finished the landscaping around the pond this summer and wanted to show you the end results. I am so glad I stumbled upon your website last year and highly recommend it! Thank you again! Sincerely,
Stacey H.
---
Hello Jeff,
I'm attaching my pictures of how I used rock on a roll. This is a small stream I made for my box turtles to drink from and bathe in. I used the extra material to make a small ramp out of one of my ponds. Thanks,
Ken Taylor
---
It was my pleasure to send you the pictures. Your product is wonderful! In fact I installed it alone after the pond was full. Not ideal but it worked fine. It has made our little pond look established and natural. We understand the black liner nightmare. We had a much larger pond at our previous home and it took years before you didn't stare at that awful liner! Our pond is little and simple but it's a backyard sanctuary to our new fish, the birds and just adds so much joy.
- - Tammy M. - -
---
Jeff,

Just a note to tell you how much you have changed my pond. We built it with a typical black liner and I have hated it for years. I saw this online and got three rolls. We took everything out of our pond over the weekend and lined it with the Rock-on-a-Roll. I can not believe the difference. I am so happy with the results and am just loving the pond. This is a great invention and as a side note, my husband and I are artists and can think of many applications for it in our mixed media art. This is a great product and we will be showing the pond off to everyone now. Thanks so much!

- - Lisa C - -


---
Hi Jeff,

I just wanted to say that I am so glad that I found your product. Rock-on-a-Roll absolutely, no doubt, saved me much physical work of rock placement. It looks so natural and I would definitely recommend it to anyone who wants to cover their unsightly black liner.

I have attached photos that show before installation, during installation and completed installation. Love it, love it, love it. I am so happy with the completed look. Thanks again!

Erika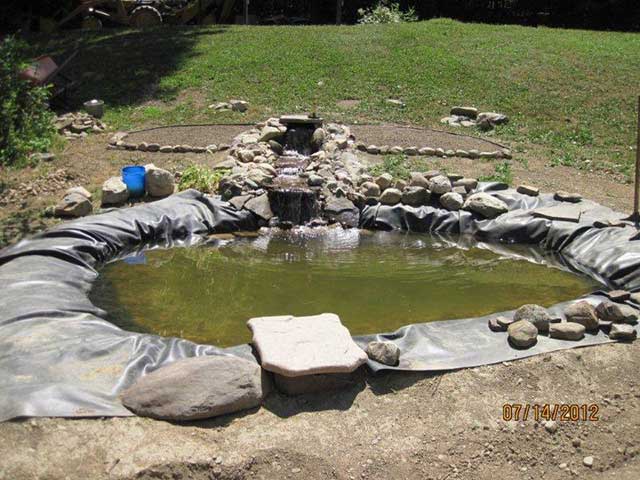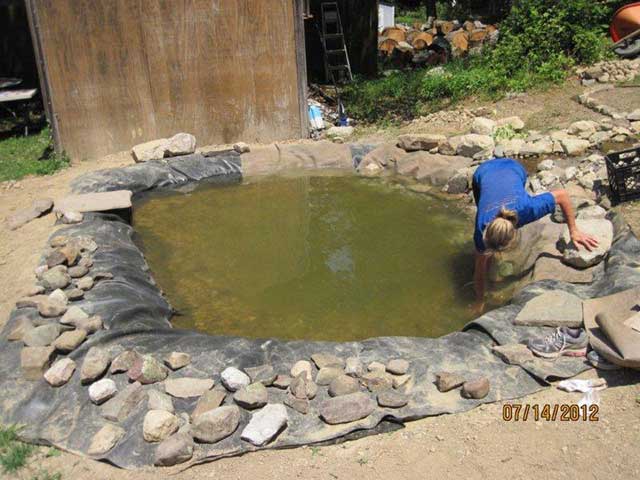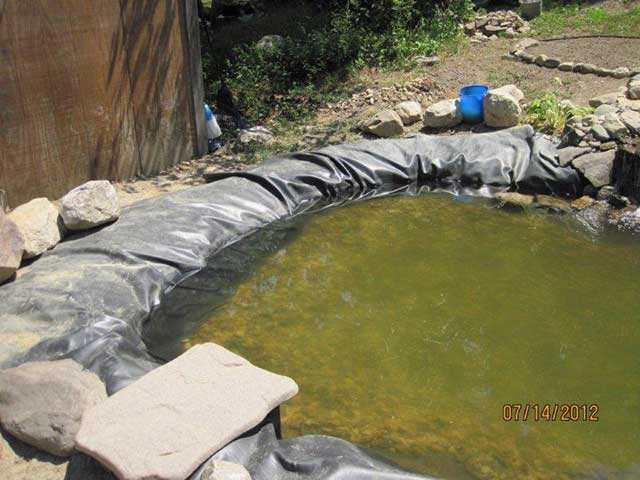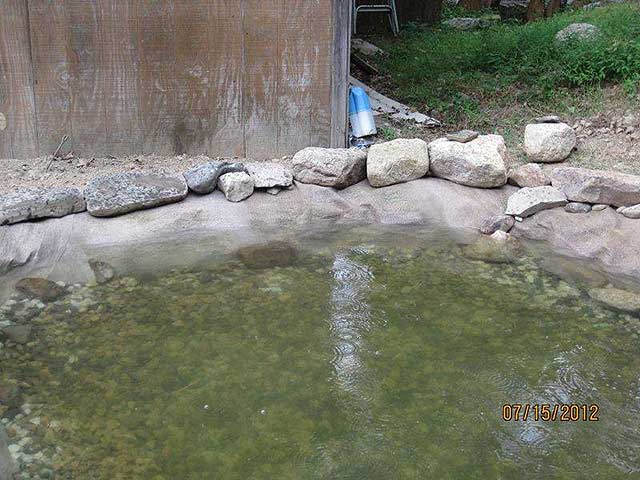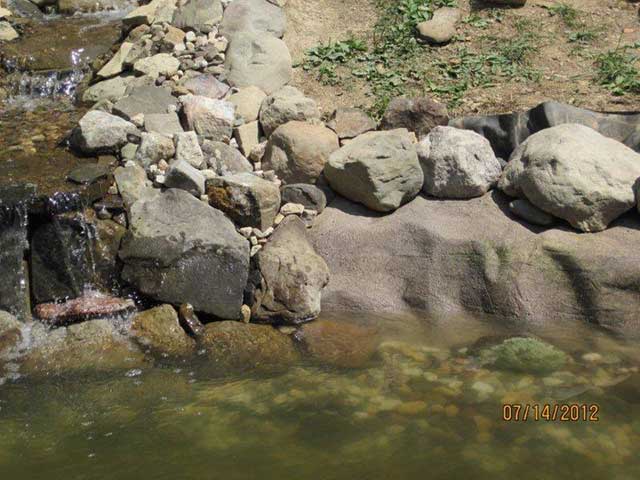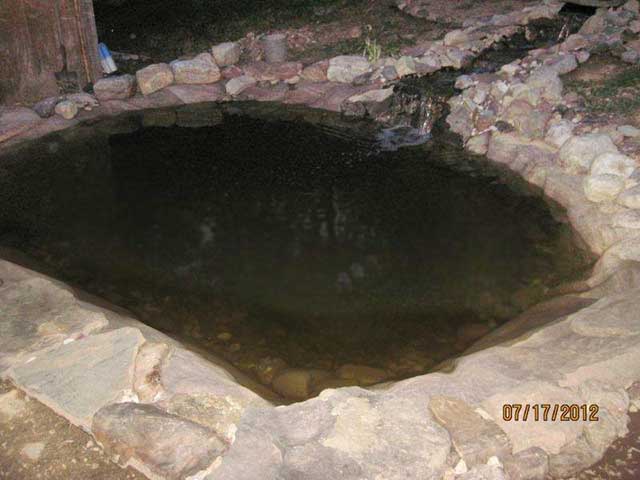 ---
Hey Jeff - I am sooooooooooo happy with my rock on a roll, I took a ton of pics of my front yard! Lol I love it, love it, love it!
- - Heather and Freen - -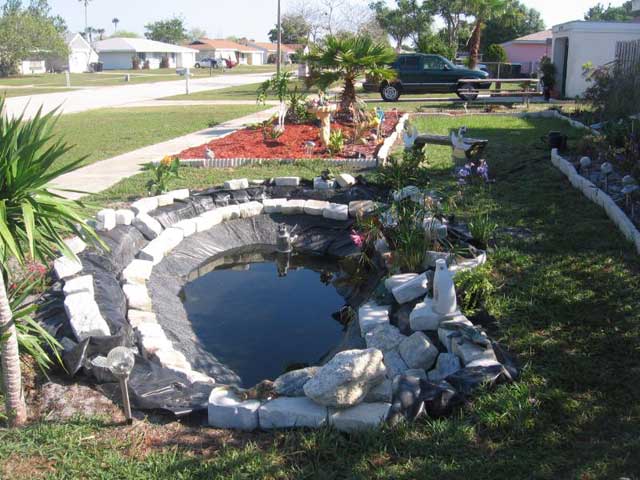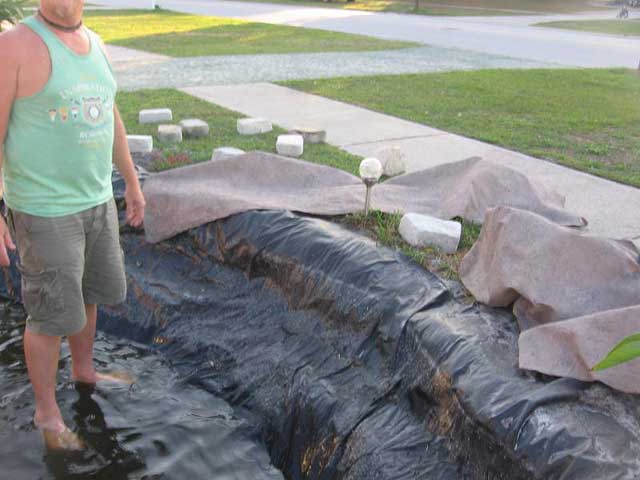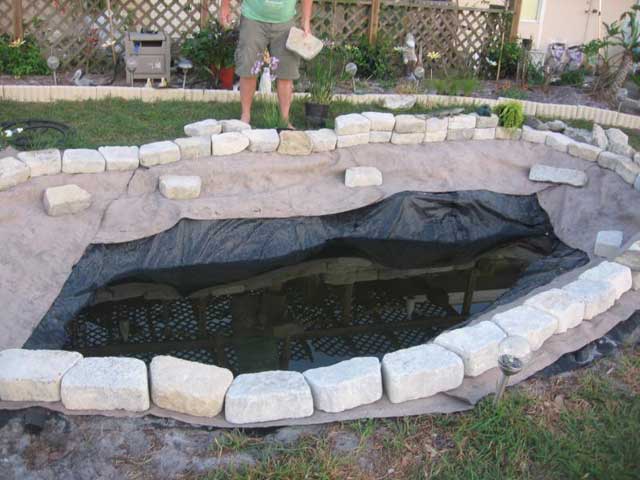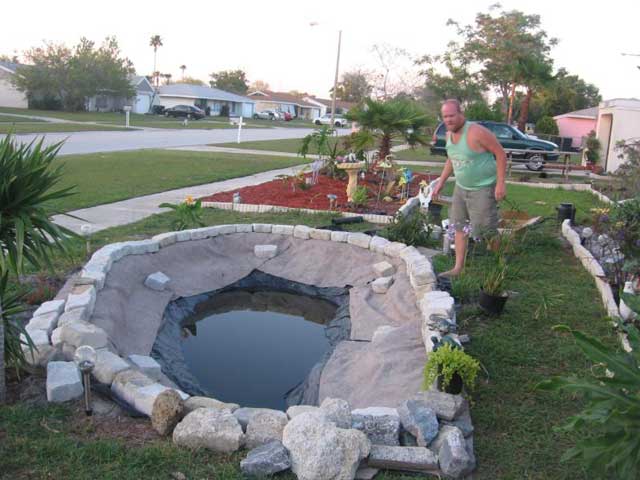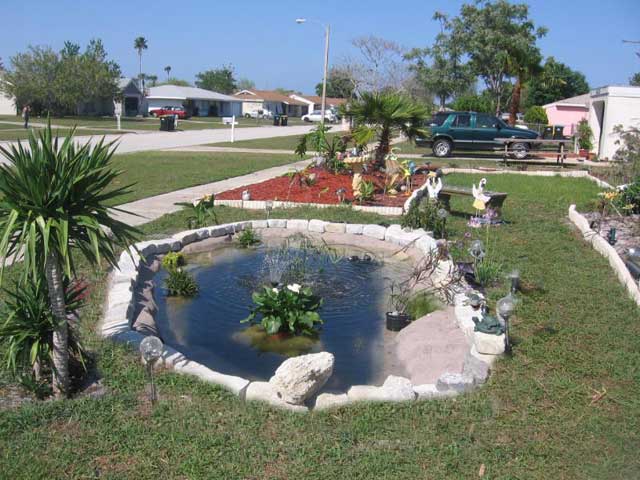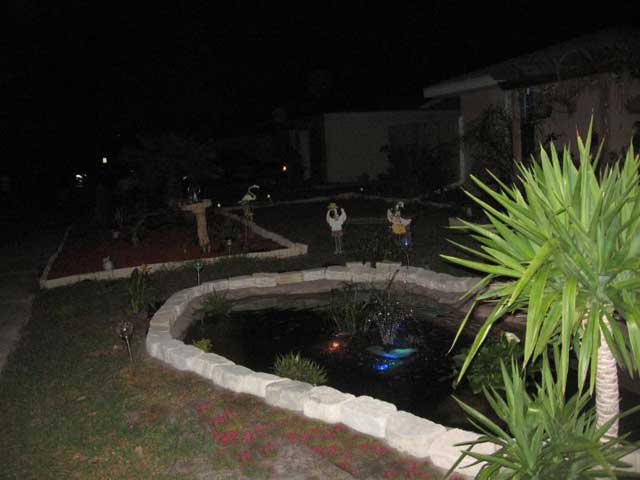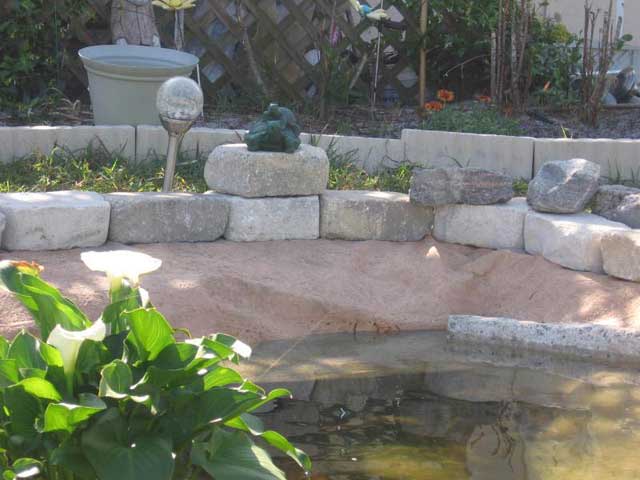 ---
Good-morning Jeff,

I'm sure you have people telling you this all the time, but I will add my compliments. Rock on a Roll is really great! With the numerous above-ground ponds I have done, it has been the crowning glory. Especially for the above-ground streams. It's a simple remedy for hiding the liner edges but it makes a big difference, aesthetically.

This is a short clip and it shows just a small portion of your material, but I think it is interesting because, although a close-up your material doesn't look artificial. (And the bird [a Lazuli Bunting] seems to like it.) I am finishing up my last pond soon using much of your stuff...can't fit anymore ponds in the backyard. :-) Len


---
These before and after pictures were set by Robert H, who faced a common problem - one side of the pond was higher than the rest. The exposed liner would have been a big challenge to hide with stones.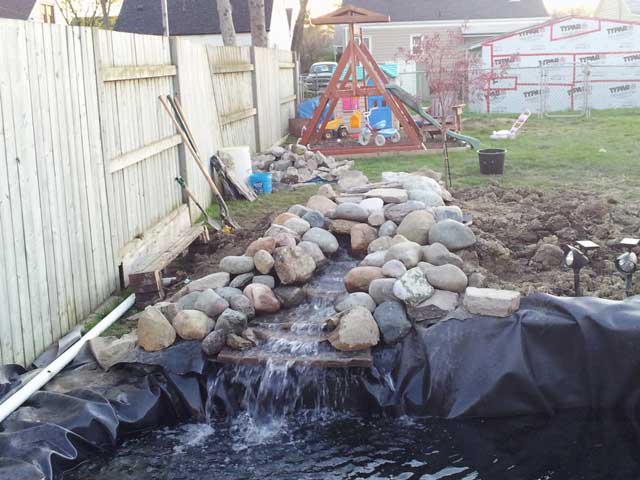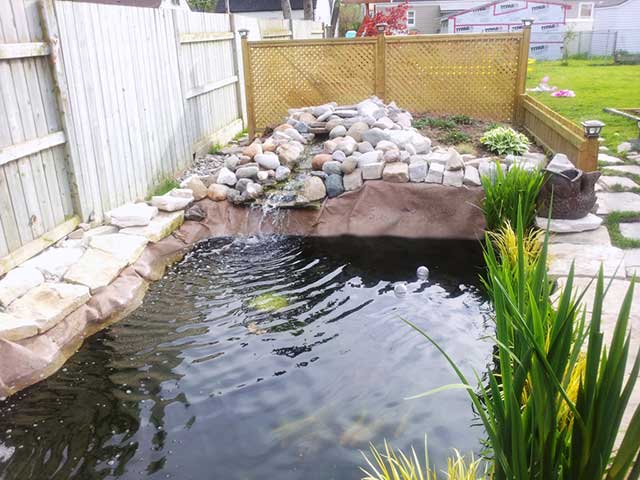 ---
We have a raised edge pond...a fairly large one and had the dilemma of finding how to disguise the edges in such a way that the pond appeared natural and fit in with a sandstone stacked trickling waterfall we built. The prospect was using more expensive sandstone edging and that promised to be over $600 of stone. Instead we happened on your website, read about your product, talked to you on the phone and ordered 8 rolls. They look great...they even blend with the sandstone and the pond has a finished, attractive appearance without looking artificial or cobbled up. Thank you...great product!
- - Cindy T - -


---
---
I just wanted to let you know that I am very pleased with the continued good look of the Rock-on-a-Roll that I placed in my two small water features late last spring. Thank you very much for your help in getting the product.

It's a fine sensible, useable, durable, attractive product.

Heidi L
Hudson, WI 54016


---
---
We recently purchased rock on a roll and installed into our existing pond. It looks great! We had so many rocks that had accumulated in the pond to cover the liner that it looked dark and gloomy and now we just have a few to cover the seams. We love it.
Thanks,
Bruce and Kathy B
---
To Whom it may concern:
I just wanted to drop a short note saying thank you. I first saw Rock-on-a-Roll at the Minneapolis Home and Garden show this past Spring. I was impressed enough that I bought 3 rolls of the product. I mainly wanted to cover up the existing black liner that was showing in my pond. The end result was exactly what I wanted. I have shown the liner off many times. So once again thank you.

T.J. H